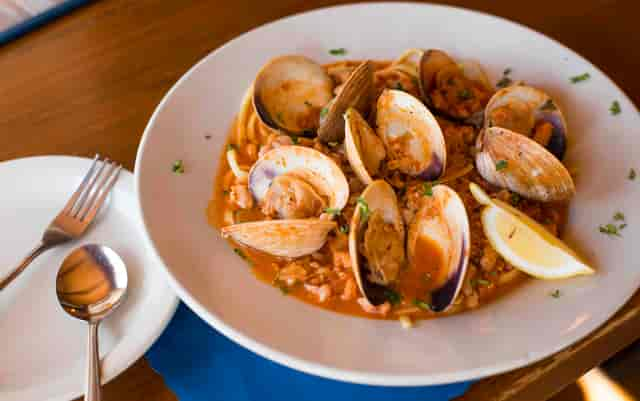 About Us
An open letter from our owners About The Clam Bar...
The Clam Bar has been an icon in North Syracuse since 1965. Christa and I took over The Clam Bar in July 2012 from Kenny Bertsch and his family. What a great job they did to turn it into one of Syracuse's most popular restaurants, voted several times the Table Hopping's "Best Seafood" Award throughout the years. We continue to move forward with that great reputation and the proud tradition that the Bertsch family carried for almost 22 years.

We are excited to continue the long standing tradition of delivering exceptional food at an affordable cost that keeps our patrons returning again and again.

The Clam Bar is more than just your average seafood place. Sure, we have great seafood (ask anyone that's been here!), but we also have a great selection of chicken, steak, and burgers. Not only that, but our Famous Clam Bar wings are the best chicken wing you'll ever taste. The consistently fresh seafood delivered six times a week and skillfully prepared by our phenomenal kitchen staff, contributes as the back bone of the operation. One bite and you'll be back again and again.

The Clam Bar is a great place to gather for lunch, dinner, or just for drinks. We offer lunch and dinner specials every day. Check us out on FaceBook! The Clam Bar is truly a place where the food is great but our guests are what make this place so special.

We could "woo" you with words, but instead we are inviting you to stop by and check out our restaurant. We hope to see you soon!

Sincerely,

Ed and Christa Nyce
Owners, The Clam Bar
Watch a virtual tour of the restaurant!